India vs West Indies | In Numbers: Acceleration & Economy – India's Dual Problem at the Death
Hyderabad and Thiruvananthapuram couldn't have summarized Indian T20I cricket any better.
India's chased down their highest ever total in T20I cricket overhauling West Indies' 207 with 6 wickets and 8 deliveries to spare in Hyderabad.
West Indies chased down India's target of 170 in Thiruvananthapuram thrashing the hosts with relative ease by 8 wickets and 9 deliveries to spare.
Both the results follow a trend and pattern which indicates how brilliant India has been in chasing totals but on the flip side how modest their returns have been when they have had to defend.
Defending totals has been India's biggest weaknesses in T20I cricket. They have won just 14 of its 25 matches (and lost 11) batting first since the 1st of January, 2017.
Amongst major cricket playing nations, it lies at number 5 in terms of win-loss ratio batting first.
Contrast this to India's record when they chase and the results indicate complete domination.
India have been the best chasers (and by far) in T20I cricket having won 17 of the 22 matches in which they have batted second.
Intuitively and even through the prism of numbers, India's strength has been its batting and thus it does not come as a surprise that they have been excellent chasers and not so good when setting targets. India's batting average of 31.42 is the best amongst all major teams post 2017. On the other hand, their bowling average places them at number 4 and bowling strike rate at number 5.
But going deeper we find other reasons which make India vulnerable batting first and almost unbeatable when chasing.
THE CONTRAST IN KOHLI'S RECORD
Almost all the Indian batsmen have a better record batting first – both, in terms of batting average and strike rate with the exception of the one who matters the most – Virat Kohli.
Kohli has a modest record batting first but an exceptional one chasing since 2017 – it is as if the extra pressure of a target spurs him to produce his best. He has registered just one fifty in 17 innings batting first in this period. Contrast this with his 6 fifties in just 11 innings batting second with India being victorious in 5 of these matches.
India's fortunes in T20I cricket seem to have a direct correlation with Kohli's performances. This is one of the major reasons why they are a great team chasing a target but an average one when defending.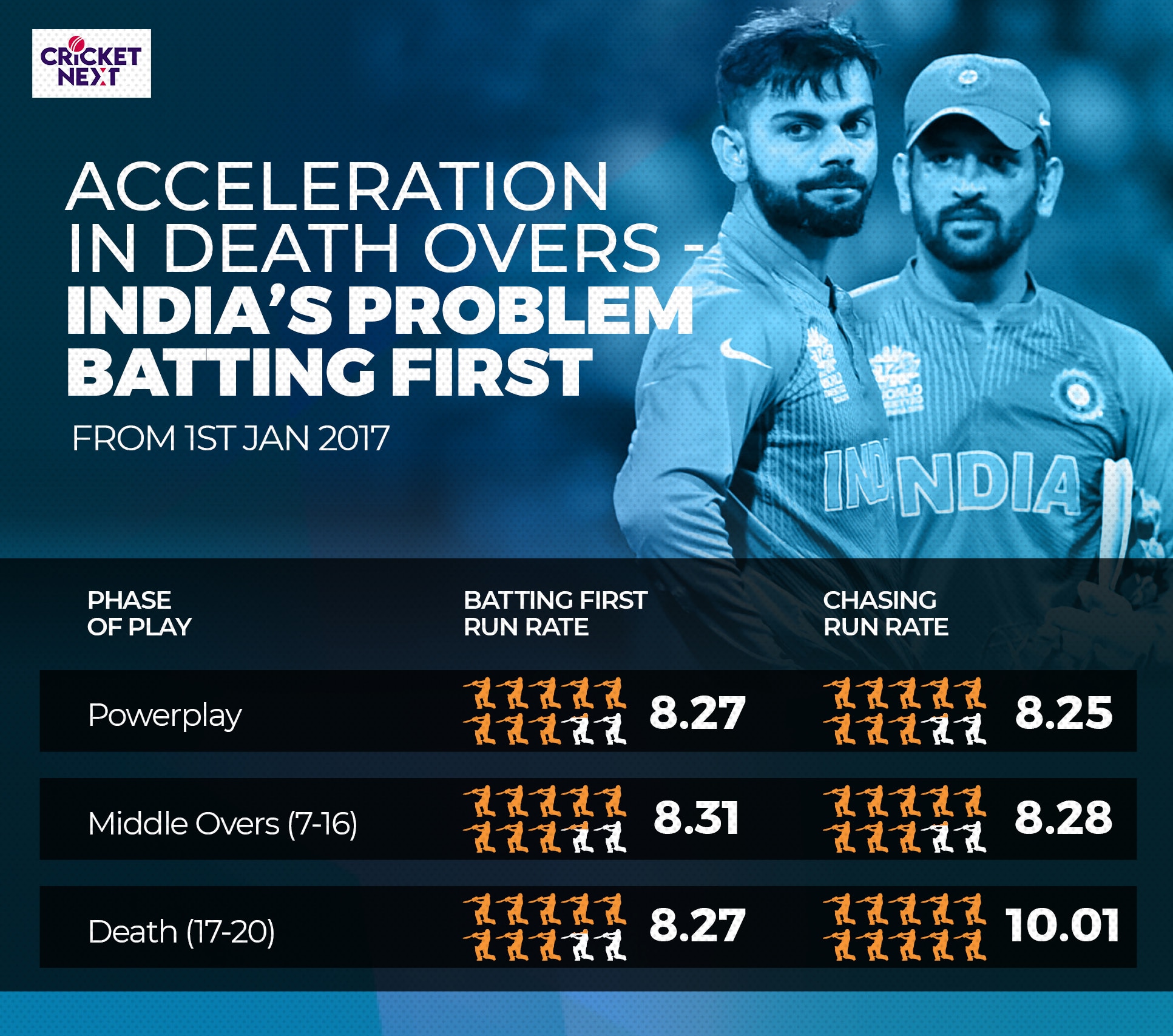 NO ACCELERATION AT DEATH WHILE BATTING FIRST
India has the best run rate of 10.01 in the death overs (17-20) while chasing (since 2017). Their run-rate dips to 8.27 in the same phase of play when they bat first (fourth-best amongst all major teams). It is as if they do not know 'how much' to attack in the death overs when they do not have a target to chase. They don't seem to have a total in mind when setting a target.
Also, their run-rate is marginally better in the powerplay and the middle overs when they bat first – this clearly indicates that it is the death overs where they have a problem when setting a target.
There is a uniformity in run rate in the three phases of play when India bats first – they do not accelerate at all at the death and this is where they are falling short.
SPINNERS LESS RESTRICTIVE IN MIDDLE OVERS AND ECONOMY IN DEATH OVERS
The Indian spinners have an excellent economy rate of 6.88 in the middle overs when India bowls first but tend to leak runs when they are defending a total. Their economy rate falls to 7.96 bowling second which is actually the second-worst amongst all teams only after England (8.37).
Yuzvendra Chahal has one of the worst economy rates (of 8.83) in the middle overs when India has defended a target in this period.
India's economy rate at the death bowling second of 9.42 is the second-worst after England (10.46) since 2017.
To conclude, India have a dual problem in the death overs. They are not being able to provide the final flourish batting first and are then conceding too many runs in the final few overs while defending a target.
Teams will be aware of these apparent weaknesses ailing the Indian team.
Time for the Men in Blue to get their house in order before the World T20 next year.